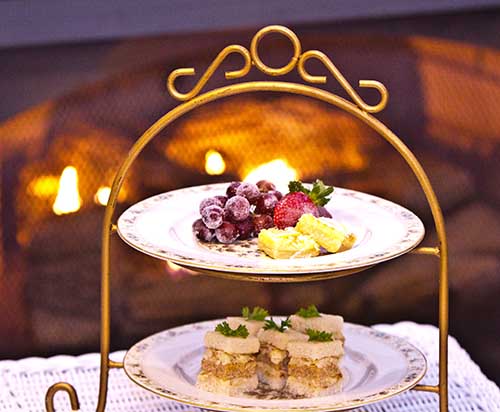 An Elk Forge Breakfast Experience
Elk Forge offers a full breakfast that begins with Premium Roasted Coffee, loose-leaf specialty teas, juice selections and an offering of our home-made Granny's Gourmet Granolas, loaded with fruits, nuts and grains. A home-baked bread, is served with fresh fruit or a special recipe fruit dish. All of this is followed by a wonderful breakfast entrée that changes daily to make each morning begin with a new culinary adventure. Special diets can be accommodated (advanced notice recommended).
Daily:
Belgian Waffles, Premium Roasted Coffee, Tea, and Juices. Gourmet Granola with Milk or Yogurt.
Followed by: Daily hot dishes, home-baked breads and fresh fruits.
Example Morning Menus:
-Morning-baked Blueberry Muffin with Butter, Fresh Melon slices, Belgium Waffle with Maple Syrup or Blueberry Topping, Quiche Lorraine.
-Banana Bread with Butter, Pineapple Wedge, Bananas Foster Crepe, Shirred Egg with Smoked Bacon.
-Scone Pudding with Vanilla Sauce, Fresh Strawberries, Swedish Pancakes with Lingonberries, 5-minute Boiled Egg.
-Cinnamon Scone with Apple Butter, Apple with Cheddar Wedge, Buttermilk and Oat Grain Waffle with Maple Syrup, Slice of Country Breakfast Casserole.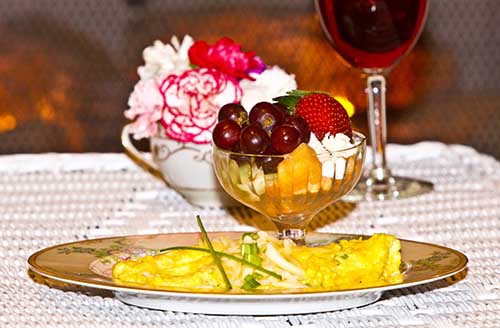 Bunbury's Tea Room & Shop
The new Bunbury's Tea Room at Elk Forge is now open for your special events and themed tea parties. Call Elk Forge at 410-392-9007 to make your reservation today! We are happy to host groups and parties of 15 or more.
We carry a wide variety Specialty Teas, Herbals and Tisanes to suit every palate. Single Estate Teas, Certified Organic and Decaffeinated varieties are available.